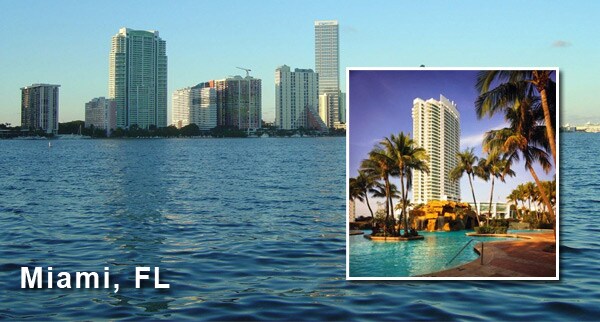 Miami, FL, near Aventura Honda in North Miami Beach, FL

Aventura Honda in North Miami Beach, FL, attracts customers from a number of surrounding cities and communities, but there is none larger than neighboring Miami, the 42nd largest city proper in the United States.

Miami's metro area (of which North Miami Beach is part) is the most populous metropolis in the Southeastern United States and the seventh most populous in the entire country. The city itself has a population of about 400,000 residents. Miami was named as "America's Cleanest City" by Forbes magazine in 2008, and a 2009 UBS study of 73 world cities ranked Miami as the richest city in the United States.

Miami was officially incorporated as a city in 1896, prompted in part by the expansion of the Florida East Coast Railroad to the region. At the time, the city had a population of about 300 people. The city prospered into the 1920s during the Florida land boom, but the 1925 collapse of the boom coupled with the 1926 Miami Hurricane and the Great Depression stifled that growth for a time. The onset of World War II helped again jumpstart the growth and expansion of the region, and the migration of Cuban refugees after Fidel Castro's rise to power in 1959 further increased the population. Over the course of just 110 years (1896-2006), the Miami metro area grew from a population of just over one thousand residents to nearly 5.5 million.

The Miami metro area is home to teams of all four major sports, but currently only the Miami Heat basketball team play within the city limits at the American Airlines Arena. That changes in 2012 with the opening of a new ballpark for the Florida Marlins baseball team at the site of the former Orange Bowl. The team is expected to change its name to Miami Marlins to reflect its new home.

Miami is also home to numerous entertainment venues, theaters, parks, museum and performing arts centers. The Adrienne Arsht Center for the Performing Arts, which opened in 2006, is the second-largest performing arts center in the United States by area, topped only by New York City's Lincoln Center. Museums include HistoryMiami (formerly the Historical Museum of Southern Florida), the Miami Art Museum, the Miami Cultural Center, the Miami Children's Museum, the Miami Science Museum, the Frost Art Museum and the Vizcaya Museum and Gardens.

If you are interested in acquiring a new or used car and want to take a test drive, stop by Aventura Honda at 2150 NE 163rd Street, North Miami Beach, FL 33162, or give us a call on our sales line at (866) 340-2834 today! Getting here from downtown Miami couldn't be easier. Just take I-95 North to Exit 12B onto State Route 826 East and drive 3.7 miles until you see Aventura Honda on the right. We'll see you there!